Taylor's Concrete Cutting Services began operation in 1999. Ron Taylor founded the business after being in the concrete cutting industry since 1982. With the help of Ron's daughter Storie and his many years of past Experience, Taylor's has now become one of the premier concrete cutting companies in the Southeast.
From a one truck operation to now operating 7-8 trucks daily, Taylor's has kept the same mentality from day one. Customer satisfaction is our first priority. That customer satisfaction goal has enabled us to grow as a company and succeed. See our services page to see how we can help you with your concrete cutting needs.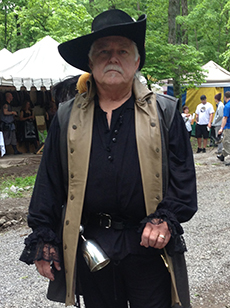 Ron Taylor is the founder and president of Taylor's Concrete Cutting LLC. Ron founded Taylor's Concrete Cutting Services in 1999 after being in the business since the early 1980s. Seeing a need for an elite concrete cutting company in the KY/TN Area, Ron formed Taylor's Concrete Cutting, LLC.
Today Ron has accomplished his goals as a business owner and still continues to move forward. Ron is also very active in the local community and a proud supporter of  Total Cheer all-star cheerleading in Bowling Green Ky. In his free time, Ron enjoys spending time with his wife, daughter, and grandchildren. Also, you may see Ron "AKA Rouge" across the states attending Renaissance fairs or maybe even on the occasional cruise. Young at heart, Ron still enjoys a good time.